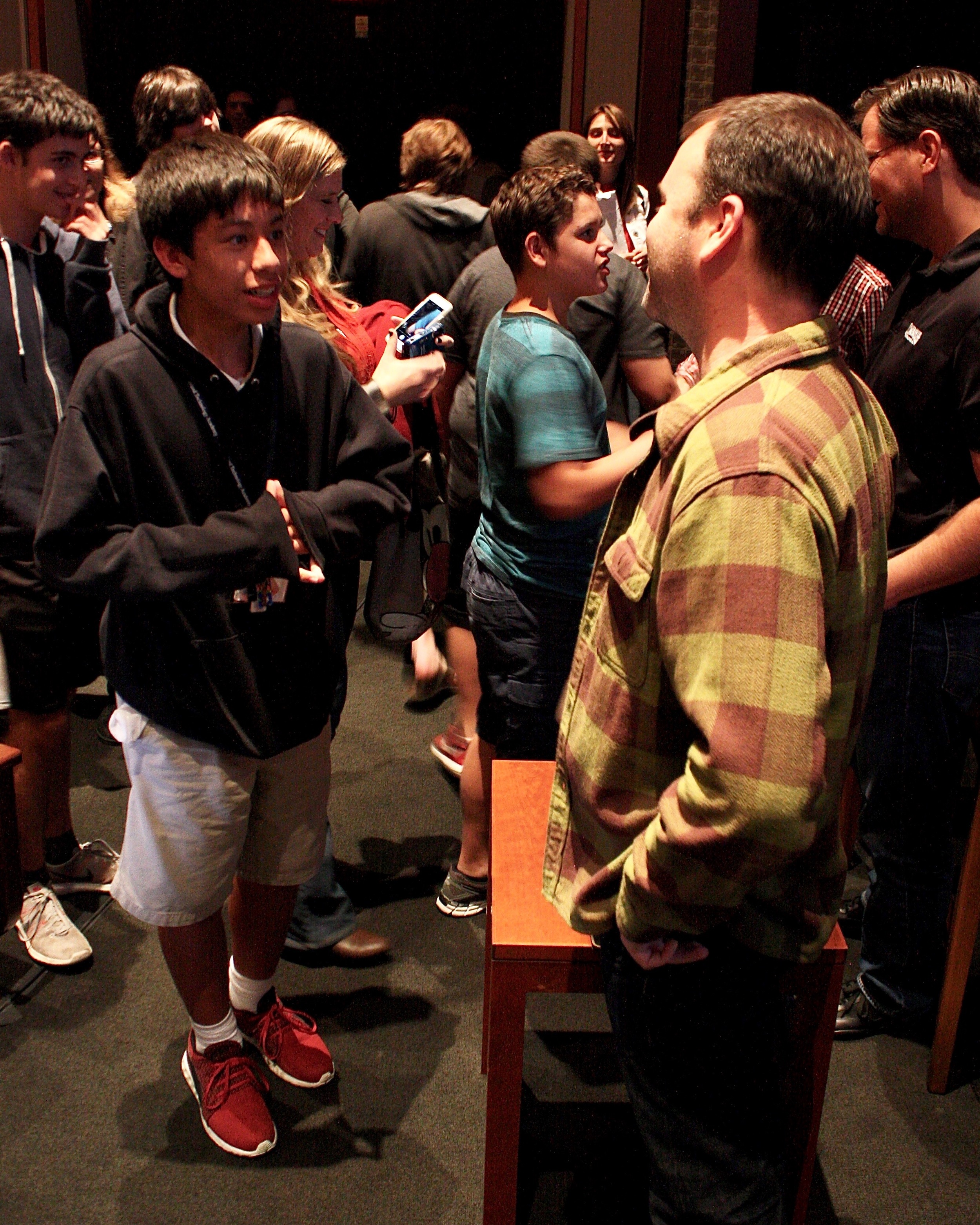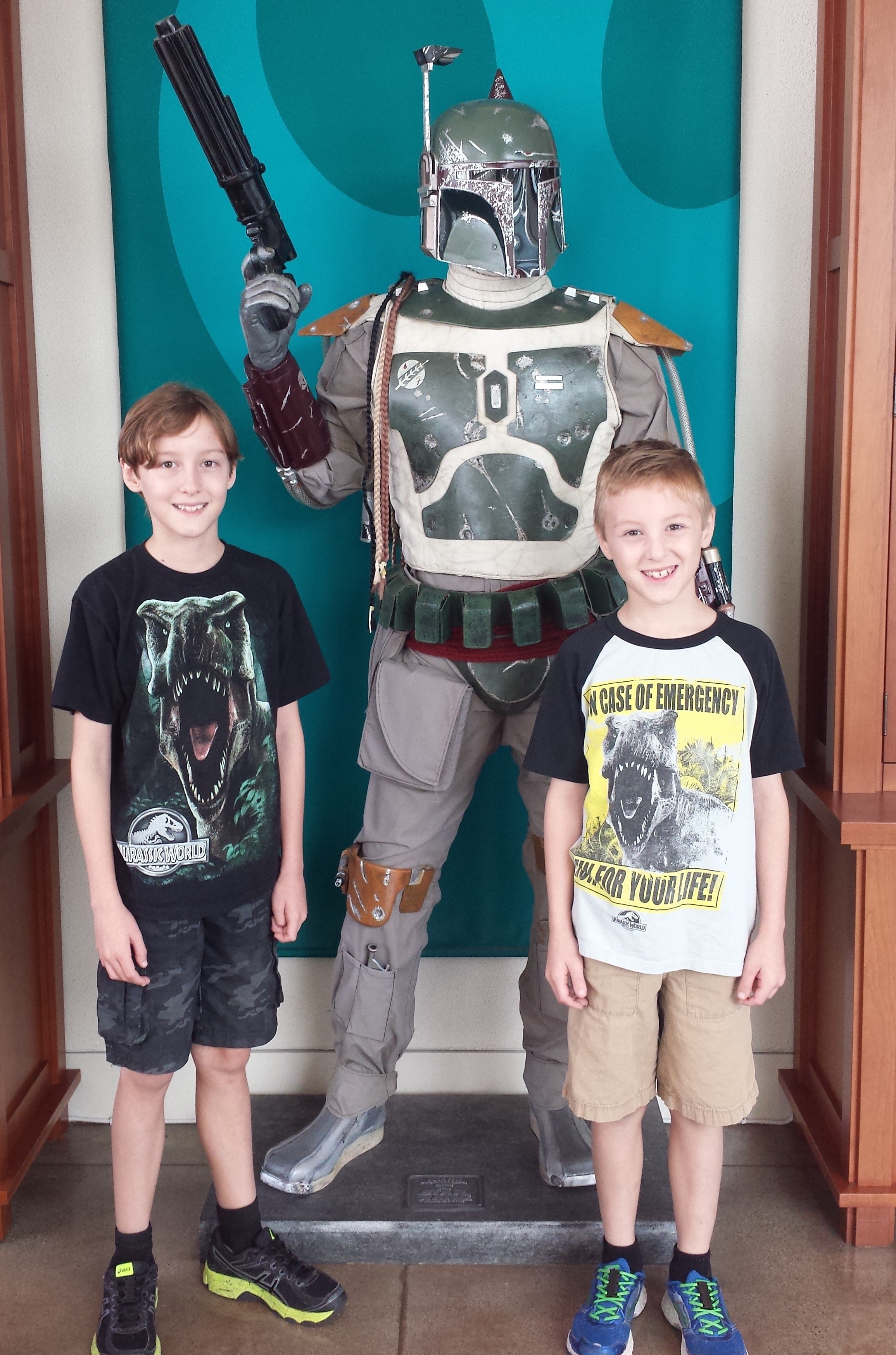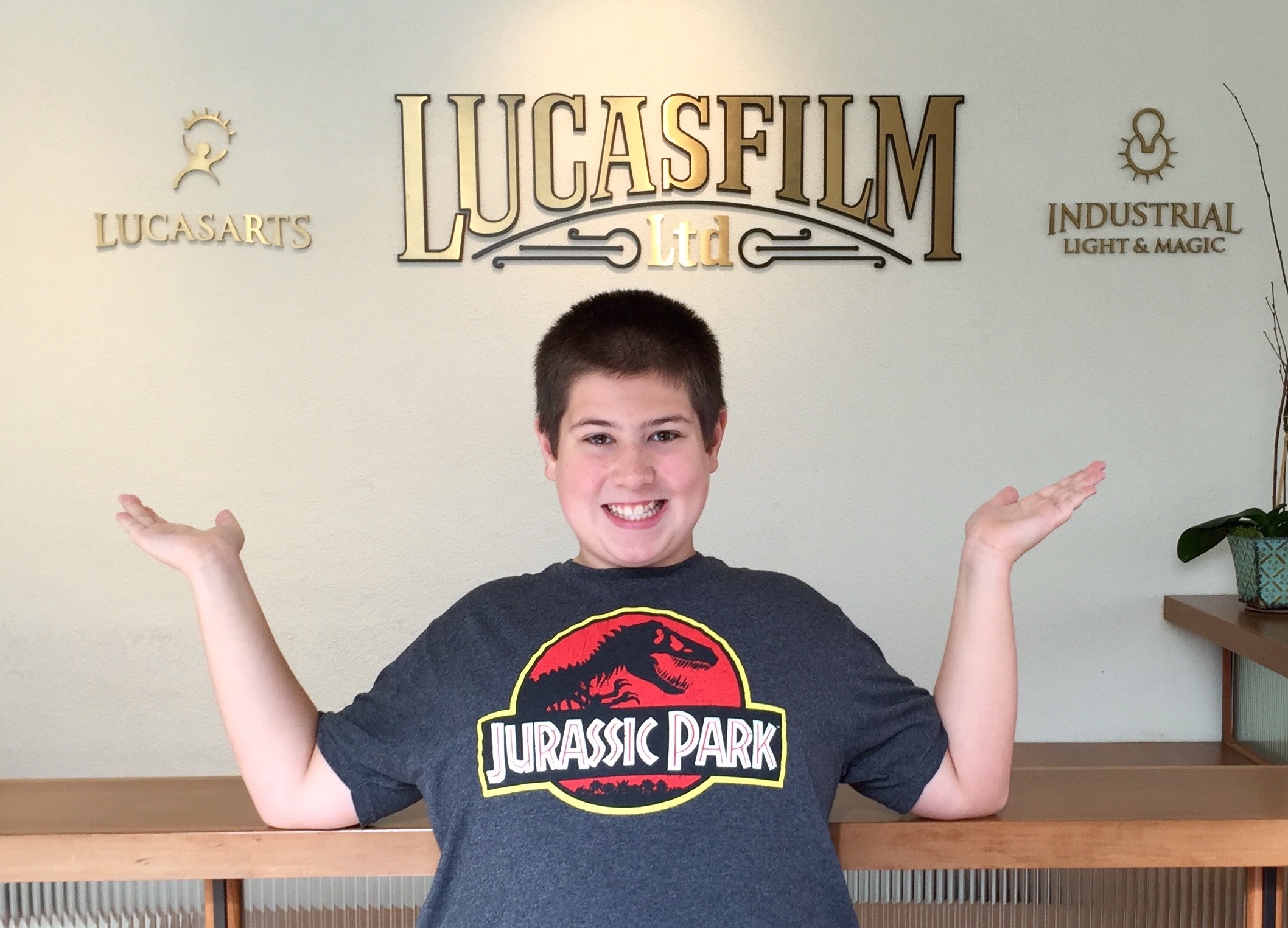 Earlier this fall, in collaboration with Lucasfilm, the Film Society presented a special edition of our Art & Science of Lucasfilm series with some of the amazing crew behind the studio's latest, Jurassic World. Now in its eighth year, this wildly popular program brings experienced professionals from the various Lucasfilm divisions into a state of the art theater on the Lucasfilm campus to share their knowledge (and their spectacular cinematic secrets) with Bay Area students through interactive multimedia presentations that demonstrate the intersection of art and science in the entertainment industry. Our presenters for the program were Industrial Light & Magic's VFX Supervisor Tim Alexander, Animation Supervisor Glen McIntosh and Creature Supervisor Kaori Ogino. The team took the students on a behind the scenes look of how they created the amazing dino visual effects in the film.
Each speaker spoke to how the artists and technicians utilized a great deal of biology, anatomy and paleontology in the development of the "stars" of the film. They also described their own paths to how they got to where they are today, discussing their educational choices growing up as well as their first steps into the job market.
Once the Q&A wrapped up, students were invited to the front of the theater to talk with our guests. Glen McIntosh even brought his personal sketchbook filled with development art from the film.
As we begin to plan for our 2016 spring program, we have been reflecting on previous iterations of the Art & Science of Lucasfilm. At the close of our Star Wars Rebels program last fall, high school attendee Josh Wolfe submitted the essay below. We feel it perfectly captures the kind of educational experience the Film Society works to provide. Hope you will enjoy reading:
"Follow your passion," it's a popular catch phrase and inspirational quote, meant to help calm and clarify someone looking for a career. But this guiding phrase can sometimes cause even more stress to those who don't know their passion or don't know how it can apply to a career. This was the case with me. Whenever someone would ask what my passion was, or what I loved to do, I would always reply with comics, movies and video games. I could never imagine how those could apply to a career.

The problem was, I didn't have any real examples of people who used those specific passions towards a realistic career. I had only heard of very famous people who I assumed had known from the start what they were going to do with their lives and had been doing it from a very young age. I thought they were natural geniuses that only ever create perfection or are always thrilled with their work, and I felt like that could never be me, as if I wasn't the right kind of person. I was very indecisive on what passion I wanted to base a career on and was never fully satisfied with anything I created.
Then, I went to an Art & Science of Lucasfilm presentation organized by the San Francisco Film Society Education Program and heard Star Wars: Rebels presenters Executive Producer Dave Filoni, Animation Supervisor Keith Kellogg, Art Director Kilian Plunkett and Line Producer Athena Portillo speak about their careers. As a result, my entire view of people who do creative work changed. These formerly larger than life people became relatable. It was revealed that some had started out with similar interests to mine. In fact, most of them still enjoy reading comics, watching films and playing video games as adults. The presenters said that most of them didn't realize they were going to be animators, writers, or producers until they were out of college. Each had followed diverse paths of interest that led them to their current work at Lucasfilm. For example, some weren't even art majors in college, but had taken internships where they learned to create amazing works of art. They all had been willing to take risks and go out of their comfort zones to follow what they are passionate about. This made me realize that the presenters were just like me in terms of hobbies and not being certain in high school of their future. The fact that they didn't start out as experts made me more confident in my ability to become a writer, producer, or animator. After hearing about others following different paths, I relaxed, not feeling so pressured to figure everything out right now.
One of my favorite comments by the presenters is what I like to call "Melted Chocolate Wookiees." In Star Wars: Rebels, the Wookiees (normally very hairy creatures) were featured in one of the episodes looking very smooth and textureless. This gave an impression as if they were made of melted chocolate. They stood out compared to the detailed environment around them. During the talk at Lucasfilm, Dave Filoni, Executive Producer, commented on the production quality of the Wookiees, saying "Sometimes, you have to work with a small budget and short deadlines, so some things end up being less than what you expected. Like you may want to put in a lot of work into making really cool looking Wookiees, but you have to be satisfied with melted chocolate Wookiees." This to me showed that the artists were able to see the flaws and mistakes in their work and have a sense of humor about it. It made me relate to them on a personal level. Not everything they made turned out perfectly, they had to work hard with the right conditions to get amazing results. Sometimes, even the professionals aren't satisfied with all aspects of their work, and that's okay. With hard work and training, it's inspiring to believe perhaps even I could work up to their level.

I was lucky enough to talk with the panel after the presentation. I would never have had the guts to talk to these superstar legends previously. However, because they came across as so down to earth and humorous, I got up the nerve to approach them. We talked about our similar interests and the stress of not knowing how to start on a path. They let me know how important it is to find mentors and they encouraged me to pursue a career incorporating my interests but stay open to many possibilities. The interaction really made me see how my hobbies, similar to theirs, with proper training and perseverance, could realistically turn into a fulfilling career.
As a result of going to the presentation at Lucasfilm, I became more confident in my ability to make a career out of my passions, and have the patience and dedication to find a career that I truly enjoy despite not being an expert right now. It's made me realize the need to be surrounded by people that are inspiring and encouraging. I am truly thankful to the Lucasfilm presenters and the San Francisco Film Society Education Program for supplying me with that inspiration. Now when someone tells me to follow my passion, I actually have an idea of how it can be done.
SFFS Education serves more than 11,000 students and teachers every year, from kindergarten through college, and helps them develop media literacy and cultural awareness as well as a global understanding and lifelong appreciation of cinema. Education at the Film Society aims to cultivate students' imaginations and empower them to succeed in a media-saturated world.
To learn more about SFFS Education, visit sffs.org/education or contact Keith Zwölfer.